THE WOODLANDS, TX – The Building Hope 2022 Gala kicked off April 2 at the Woodlands Waterway Marriott after a two-year hiatus during the COVID-19 pandemic. The event, sponsored by LGI Homes and coordinated by the Building Hope Gala Committee, celebrated homes, friends and the future and raised over $700,000 to build safe and affordable homes in our community. The evening was co-chaired by Kelsey Casey and Shirelle Chimenti and honored Lisa and Fred Koetting and the Red Hat Crew.
As part of the evening program, guests heard about future owners, Alven and Angelica Estrada. Alven and his family are currently going through the process of owning Habitat. His inspirational speech helped shine a light on all the hard work and dedication it takes to become an owner.
The program also included the exciting announcement of a donation of over 80 acres of land from Shirelle and Dr. Brian Chimenti, Dr. Jeffery Chimenti and Danette Chimenti for Habitat Montgomery County's future affordable housing development in the county. of West Montgomery.
2022 Building Hope Gala Sponsors: LGI, Danette Chimenti, Dr. Jeffrey Chimenti, Shirelle and Dr. Brian Chimenti and family, Lisa and Fred Koetting, Schulte Building Systems, Sherwin Williams, Larry Abston, Laurie and Mark Lashier, Mark Pharo, Allison and Michael Wortley, Chevron Phillips Chemical Company, Candi and Gerald Glenn, Huntsman, Cheryl and Robert Sanford, Smart Sand, Kathleen and Dave Stover, The Tipler Group, Deborah and Wayne Austin, Barbara and Stephen Crain, HEB Robin and Burnis Hebert, The Historic Hillhouse and Farm Karen and Gary Lach, Ally and Mike Seder, Signorelli Company/First American Homes, Bill and Susan Thacker, Bisaga/Krueger/Nicholson Families, Brownstone Group/Kathy Sexton/Keller Williams, Memorial Hermann The Woodlands Medical Center, Realty ONE Group Iconic and Kristin Carter Group, SpeedPro Magnolia, Vogt Engineering, Debbie and Mac Winston, Gerhard and Diane Hill Charitable Foundation, Ryan Flores- Northside Imports Houston and Women Build.
2022 Building Hope Gala Underwriters: Mark Pharo Extraordinary Jewels, Melissa and Gregg Jacobson, Chicago Title Houston, Waste Connections, The Kink Team, Hughes Watters Askanase, LLP, Sandstone Pool Service, Adcetera, Cypressbrook Company and Tris.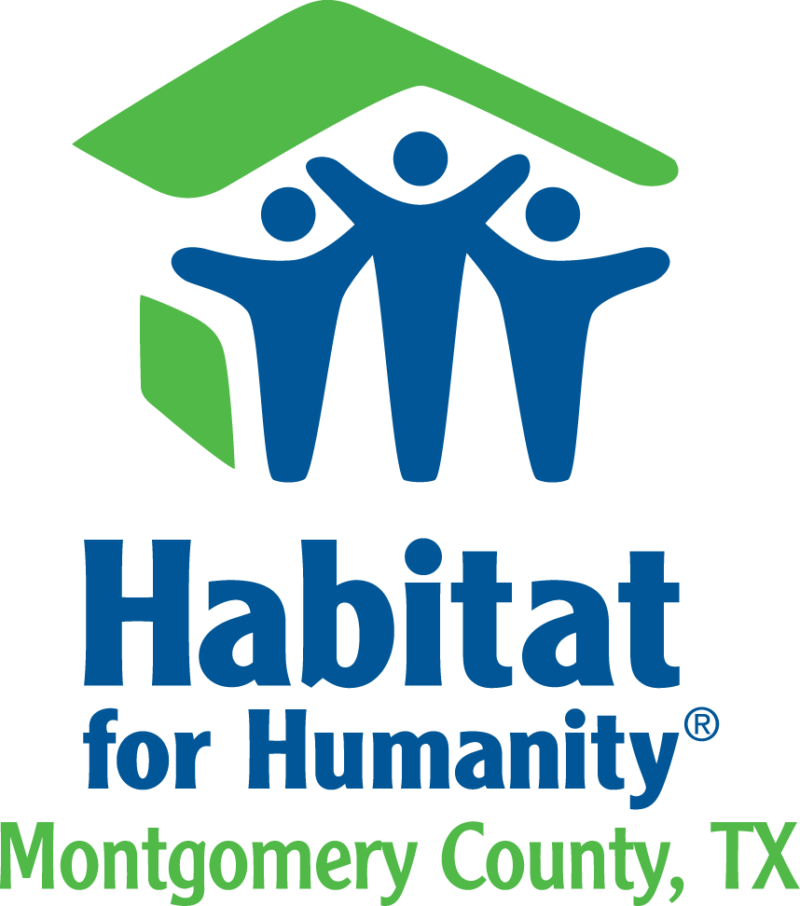 Since 1989, Habitat for Humanity of Montgomery County, Texas has worked with the loving hands of volunteers and donors to improve the lives of families and individuals through affordable homeownership. With a hammer in hand, Habitat Montgomery County volunteers strengthen, stabilize and become self-sufficient through affordable shelters. You can help us lay the foundations of life by volunteering or using your resources at Habitat Montgomery County at www.habitatmctx.volunteerhub.com.
For more than a decade, Habitat Montgomery County has been building affordable homes in the 37-acre, all-Habitat neighborhood of Cedar Creek in Conroe. Program participants are referred to as partner families. The Habitat housing program is based on a model that offers "a helping hand, not a handout". To become a partner family, the family must be qualified through an application process that includes background and financial credit checks. Family members must earn 350 hours of work on their neighbors' homes and their own home, as well as take courses in financial management and housekeeping before taking possession of their home.
The process is designed to increase the success of partner families and for them to be invested in the sense of community that the Habitat neighborhood can offer. The results of this model deliver truly transformational change for partner family owners and their children, with a focus on breaking the cycle of despair and uncertainty experienced by many low-income families.
To learn more about Habitat Montgomery County, its homeownership program, related initiatives including Women Build, Veteran Build, and Aging in Place, and its home repair program, visit its website at www.habitatmctx.org or the Facebook page at www.facebook.com/HabitatMCTX.

Habitat Montgomery County manages Restore-a home improvement store and donation center that sells new or used furniture, home accessories, building materials, light fixtures and other salable home products at discounted prices. All revenue generated from the ReStore directly supports home building and repair programs. The ReStore is located at 9407 State Hwy 242 in Conroe and is open Tuesday through Saturday from 9:00 a.m. to 5:00 p.m. Donations are tax deductible and can be dropped off at the ReStore or you can schedule a pickup by calling (936) 441-5888.
Habitat's mission is to put God's love into action by bringing people together to build homes, communities and hope. Habitat's vision is to have a world where everyone has a decent place to live.