In 2001 Building went to visit an architect in a small Suffolk village who had persuaded 15 locals to use a mixture of lime and hemp for their building projects. The architect showed Building around its lime and hemp extension, waxing lyrical about the low environmental impact of the material, its excellent insulation properties and its breathability.
The architect was called Ralph Carpenter, the village was called Hartest and, according to Tom Woolley, professor of architecture at Queens University Belfast and an expert in natural building materials, Carpenter is the "grandfather" of the lime and hemp construction.
Carpenter first saw the material, called hemp concrete, in France in 1994 and initially found it ideal for repairing local cob and cob buildings. He then used it to build his extension and other local projects, including two hempcrete houses for the Suffolk Housing Society.
Part of a program of 18 houses, the performance of the houses, which were compared to conventionally built masonry ones, was monitored by the BRE. This concluded that houses built with hempcrete were structurally equal to conventional houses, were one to two degrees warmer for the same heat input despite being assumed to perform worse on paper, offered complete protection against water and were less prone to moisture and condensation.
Hempcrete houses were not as good acoustically and were more expensive to build, costing £526 per square meter of floor space, compared to £478 for masonry houses. But hemp houses followed strong regulations and increased costs were to be expected since hempcrete was a new and unfamiliar form of construction at the time.
In 2006, Suffolk brewer Adnams made the brave decision to build the UK's first commercial hempcrete project, a 4,500m² distribution warehouse near Southwold, as it was in line with the sustainability values ​​of the business and promised to be cheap to operate. With a wall U-value of 0.18 W/m²K, beer placed in the warehouse remained cool without the need for refrigeration equipment. Adnams then reported that the building used 40% less electricity and 10% less gas per m² compared to its former distribution center.
Six years later, retailer M&S has grown almost 10 times bigger with a 42,000 sq m hempcrete supermarket in Cheshire Oaks as part of its Plan A sustainability strategy. After a year of monitoring, M&S reported that the store produced 40% less carbon emissions than an equivalent conventionally built store. The retailer said the hempcrete walls helped the store lose less than 1°C overnight, compared to 9°C in other store environments.
Given these impressive credentials, could hempcrete become a valuable tool in the construction industry's quest for a carbon-free future?
Carbon certificates
The embodied carbon references of hemp concrete are good. It consists of approximately 30% lime to bind the material and 70% chènevotte which provides insulation. Lime production has a carbon cost as it involves heating the limestone to a temperature of 900°C to 1,000°C, although less than the 1,450°C required for cement production. Hemp absorbs carbon as it grows; if this sequestered carbon is included in the calculation of the embodied carbon of the hemp concrete, it makes the product carbon negative.
According to the Hemp Block Company, its hempcrete blocks have a carbon footprint of -11kg/m³. The case for including sequestered carbon is more compelling than that of wood, as hemp can be grown and harvested in just four to five months. And hemp is a waste product from textile production.
If someone comes to us and says they want to build a really energy efficient green house that will last 100 years, then we would say use hempcrete

Tom Woolley, Queens University, Belfast
Another advantage of hempcrete is its versatility. Woolley, who is also an architect working with Rachel Bevan Architects, has used and written extensively about natural building materials – her forthcoming book Natural Building Techniques has chapters dedicated to materials such as straw, wood, earth and concrete of hemp and he says that the latter is the best.
"If someone comes to us and says they want to build a really energy-efficient eco-friendly house that's going to last 100 years, then we'd say use hempcrete because it does so much more than all of these other materials, it provides you insulation and thermal mass, it's breathable, flame retardant and healthy so it ticks all the boxes, and it's cheap, which is another big plus.
Insulation properties
Hempcrete is a wall and insulation material rolled into one and is used in conjunction with a structural frame. This is typically wood for smaller projects and steel for larger ones such as distribution centers. In a frame house, it eliminates the need for exterior cladding, breathable membranes, sheathing panels, insulation and plasterboard.
"It's basically a lot simpler and easier to do," says Woolley. Hempcrete is usually finished with a lime plaster on the outside and a lime plaster on the inside.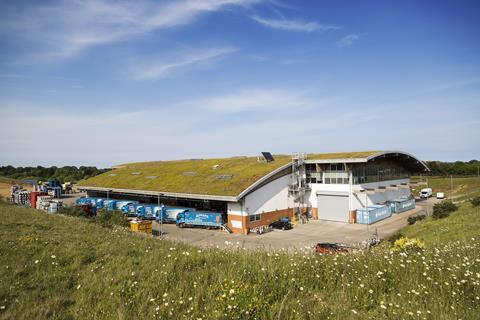 The material can be placed between the forms manually or sprayed. Alternatively, blocks are available in a range of different sizes; these have the advantage of being familiar to those with experience in laying blocks. The blocks also eliminate drying times of in-situ hempcrete construction and facilitate hempcrete construction in winter when temperatures are low. Hempcrete can be placed between wooden studs or outdoors in situations where clients wish to express the structural framework. The Hemp Block company claims that their 350mm thick blocks have a U-value of 0.2 W/m²K, the 450mm thick blocks have a U-value of 0.11 W/m²K, making them suitable for Passivhaus projects. Hempcrete is also used to insulate solid walls indoors and outdoors and it can also be used for floor screeds.
Reputation
Given its versatility and meteoric rise, how is hempcrete perceived today? It has been used for non-domestic projects including the walls of the Bright Building at the University of Bradford, achieving the highest BREEAM rating ever for a university building in 2015. According to Woolley, food storage facilities and hempcrete beverage houses have been built since the Adnams project, including one for the Wine Society in 2009. It featured precast hempcrete wall panels, but was clad in conventional aluminum cladding. Unlike the rendered Adams facility, it looks like a standard warehouse.
According to Woolley, there are others, but he says customers are leery of the material and don't want people to know they have a hempcrete building. "There are people who use hempcrete buildings because it's good for the bottom line – they don't need heating or cooling in the building and the materials are cheap," he says. . He doesn't know why people are shy and suggests it could be insurance issues or nervousness about hemp due to its association with illegal drugs.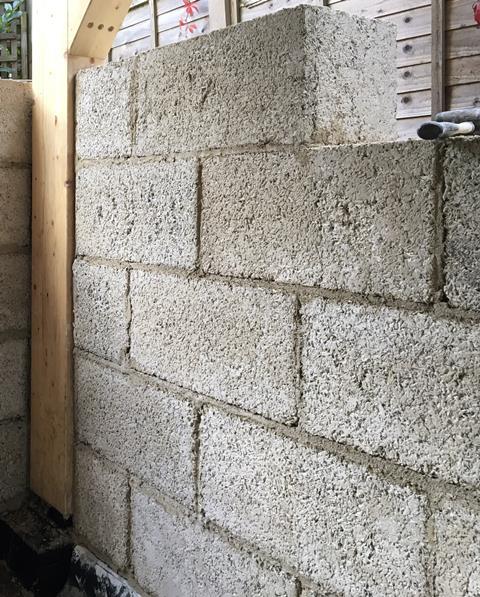 There are several established companies offering hempcrete products, including materials and contract services. This includes blocks, spray services, and the sale of hemp and lime products. These are not exclusively the prerogative of SMEs: Lhoist is a company with 2.2 billion euros in turnover, 6,400 employees and markets hempcrete under its Tradical brand. He declined to speak to Building for this article.
Woolley says there is a lot of international interest and he is part of a group developing building codes for hemp construction in the United States. Hempcrete has Local Building Standards Scotland (LBSS) certification north of the border and according to Woolley, LABC, the local authority building control trade body which also certifies products, said it would certify the hempcrete provided someone is willing to rack up the £3,000 entry fee. Part of the reason no one has is that building control is largely material-friendly, meaning certification isn't essential.
Growth
Hempcrete is mainly used for small projects such as private housing. Breaking into the mainstream, however, is a bigger challenge. According to Woolley, who spoke to Carmarthenshire Council in Wales about using hempcrete to build 600 rural houses, the odds are against hempcrete as the Welsh government supports the Active Building Center in Swansea which has received £36million in government funding to test and prove materials and technologies deliver zero-carbon housing.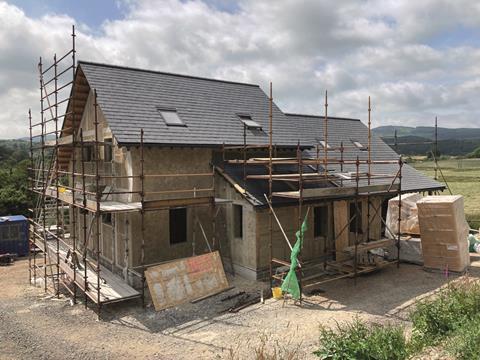 The focus is on modern materials and technologies such as PV and heat pumps rather than bio-based materials. Woolley adds that he is working with the Active Building Center and the Welsh government to try to persuade them to use alternatives such as hempcrete.
Interest in hempcrete could be driven by reasons other than zero carbon. "Initially, we wanted to project ourselves as a carbon capture company. What struck me after conversations with quite a few people was a desire to have healthier living environments," says Neil Stephen, Sales Manager of Hemp Block Company. "It becomes a big factor because the air in our homes is probably the dirtiest we breathe because of all the petroleum-based products used in construction."
Stephen says inquiries about the company's products have increased by 50% in the last six months, with these coming mainly from architects interested in hempcrete. He adds that the company targets small homebuilders who build five to 10 units at a time. "I was talking to someone yesterday who just did 10 units and they have other local sites and are going to replicate these houses but instead of doing cavity walls they are looking at using hemp concrete because they can use as a marketing opportunity like healthier homes," says Stephen.
The company also plans to supply hempcrete to a small office developer and another interested in using the material for a three-storey, 120-unit development later. Hempcrete may not have reached mainstream construction yet, but it has come a long way since Ralph Carpenter built his extension 20 years ago.